Opening Day with Majig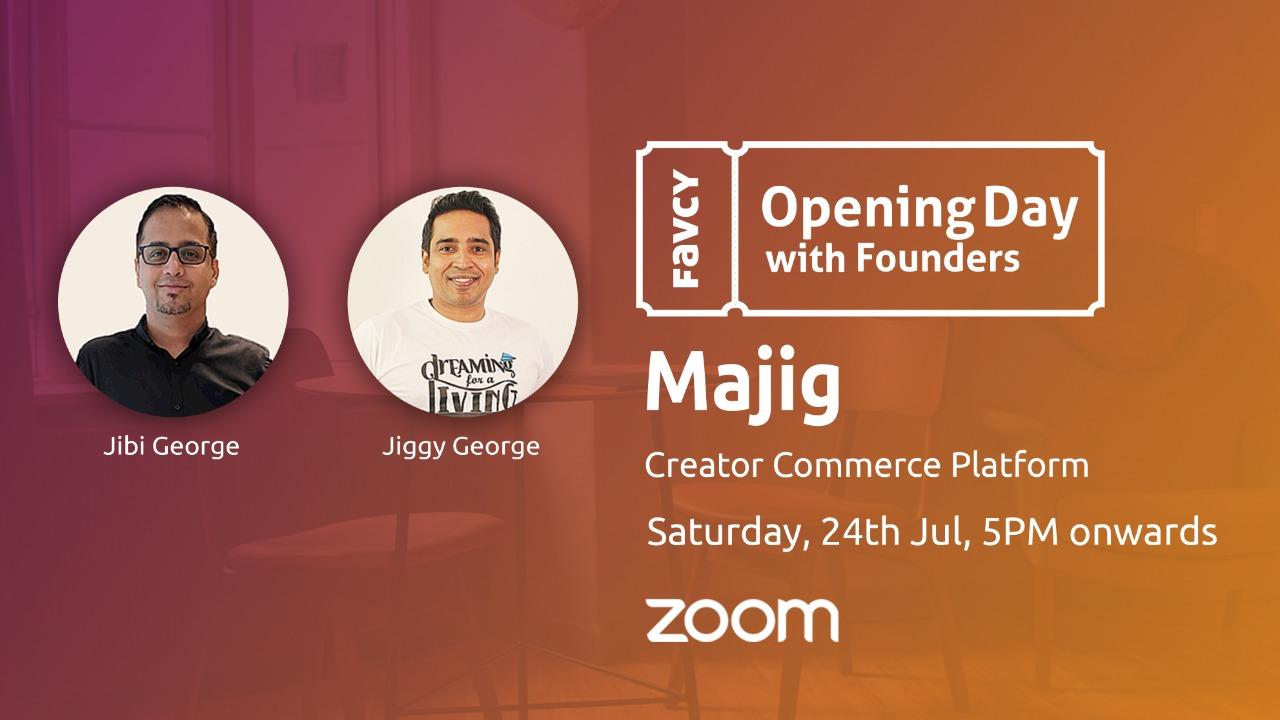 Saturday, 24th July, 5PM IST
On behalf of Favcy, I would like to cordially invite you to the Opening Day with the Founders of Majig.
In this session, Jibi George and Jiggy George, Founders of Majig, will pitch to the invited investors, followed by a Q&A session.
Below is a quick outline for the event:
 Investor Pitch (10 mins)
Q&A from Favcy (10 mins)
Q&A from Investors (15 mins)
---
The Startup
Majig is a Creator Commerce Platform that enables manufacturers of physical products to lease top brands and create online resellers to drive exponential sales.
---
 The Founders
Jiggy George

Along with his entrepreneurial experience,  Jiggy has 20 Years of experience in Sales, Marketing, Brand Licensing and General Management.

Career Milestones:
Executive Director - Turner Broadcasting / Consumer Marketing; Licensing Viacom
Launched licensing & merchandise business for Viacom (MTV) and Cartoon Network
Head of India chapter Global Licensing Industry Merchandisers Association- LIMA
Jibi George

Jibi started his corporate career after MBA school in hospitality (Taj group) and ended it as Associate Director with Turner Broadcasting where he ran the Licensing and merchandising business.

Career Milestones:
 Focused on Operational excellence and quality manufacturing at price and scale
Evolved multiple models via distribution pipes in the physical, e-commerce & emerging retail formats.
Rolled out consumer products across more than 20 categories in genres as wide as Entertainment, Sports, Corporate, and Celebrities.
---
 BRANDS ASSOCIATED WITH MAJIG
---
  The Opportunity
Full round size of Rs. 25 Lacs . Min cheque size of Rs. 2 Lacs at 2.5X multiplier
---